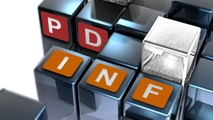 The main goal of the Doctoral Program in Informatics is to graduate Doctors on Informatics, promoting excellence and research on this area of knowledge, providing high quality on advanced studies based on own research, and with international recognition.
The Doctoral Program lasts for 4 years/8 semesters and has 240 ECTS credit units. It includes the Doctoral Course, which lasts for 1 year and amounts to 60 ECTS credit units.
This Doctoral Course has a flexible curricular plan, aiming to provide specific higher level training on each student's research domain as well as exposure to emergent and innovative topics.
The course flexibility allows students to select Curricular Units among the large number of such units available at the University, as well as including a Project Unit which is directly coordinated by the students' scientific advisor. Additionally, from the total of 60 ECTS of the Doctoral Course, the student is required to complete a minimum of 35 ECTS in its first year of admission in the doctoral program, completing the remaining 25 ECTS in the following years.
The Doctoral Program is highly focused on research, encouraging students to select their thesis advisor on the course's first semester, such that research leading to the Ph.D. thesis can start as soon as possible. The Thesis Planning Curricular Unit starts during the Program first year, requiring students to identify and characterize the problem they will be tackling as well as writing the respective state of the art.
»